Welcome back to Meet & Greet Blog Hop! Join in, meet some fellow bloggers, greet them with comments, and grow your blog with new friends! Interested in being a Co-Host? Send an email to 2justByou(at)gmail(dot)com with "Co-Host" in the subject line for consideration!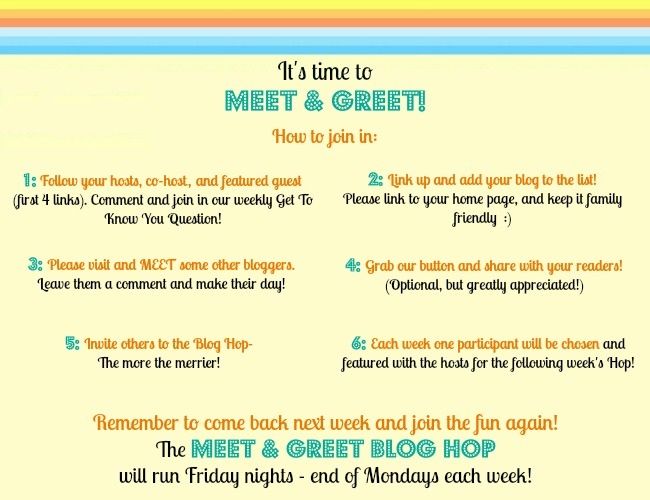 Meet Everyone! This week's get to know you question is: What sound do you love?
Kim - from 2 just B you: I love the sound of laughter; it's contagious and smiles always accompany. =0)
Laurie - from Created By Laurie: I love the sound of my little man's giggles… and not just any giggle but what I call his "Drunk Tired" giggles. There are times he gets so tired right before bed time that he will just start giggling on his own at anything- I love it!
Kayleigh – from Beauty, Life, and Babies: My most favorite sound has to be the swimming baths, that echo that hits you when you walk in and hear people having fun and water splashing about! It takes me back to being little and taking my weekly swimming lessons. Just talking about it makes me want to grab my costume and head out!
Yvonne – from My Haunted Attic: That's a really tricky question for an indecisive Libra such as myself. There are so many sounds I love, so I'll have to go with a combination of rain and wind, especially when I'm curled up indoors with a good book and steaming mug of drinking chocolate! What sound do you love? Spread the Word, Grab Our Button!
Now Link Up and Have Fun!
If you would like to sign up for email reminders for the Meet & Greet Blog Hop, please sign up below. (Your email address and info will not be used for any other purpose.)