It's time to Meet & Greet...
Welcome back to Meet & Greet Blog Hop!
Join in, meet some fellow bloggers, greet them with comments, and grow your blog with new friends!
A big thanks goes out to everyone who comes and participates on a weekly basis as this hop grows. We're now extending the hop for a Weekend Meet & Greet, hosting Friday nights all the way until the end of Monday. That gives us all extra time to meet new bloggers and greet everyone!
* Start by following the three hosts, and our featured guest! (First 4 links below)
Leave us each a comment letting us know you're following, to say "Hi!", or answer our fun question for the week!- We would love to follow/comment you back!
* Link up and add your blog to the list! Please link to your blog home page, not a specific post. And we also like to keep it family-friendly. =)
* Please visit and MEET some other bloggers, greet them with a comment and make their day a great one!
* Grab our button if you like and share with your readers! (Optional, but greatly appreciated if you do)
* Share and invite others to the Blog Hop, The more the merrier!
* Each week one participant will be chosen and featured along with the hosts for the following week's Hop.
* Remember to come back next week and join the fun again!
The Meet & Greet Blog Hop will run Friday nights - Mondays each week!
This week's fun question is: What was your favourite food when you were a child?
Sara - from FlowerLandShop: My favourite food was the apple pie!...When I grew I discovered that I'm allergic to apples, this is misfortune!XD
Kim - from 2 just B you: Pizza (I know, I know...Not so original). I was a really (OK, I still am) a picky eater, but I'm getting better.
Laurie - from Created By Laurie: I fell in love with peanut butter and marshmallow crème sandwiches. I still eat them too!
Kayleigh- from Beauty, Life, and Babies: Hmmmm when I was little my favourite food was an 'egg in a cup' I'm not too sure if it is common in the US, it's a soft boiled egg mashed in a cup :) I used to have mine with toasted soldiers and a hot vimto.
What was your favorite food when you were a child?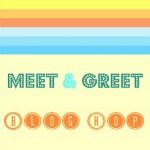 Now Link Up and Have Fun!